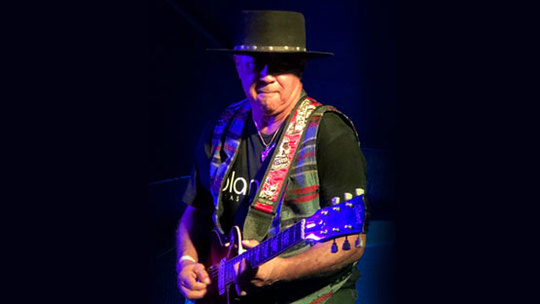 Influenced by guitar masters like BB King, Muddy Waters, Jimi Hendrix, Stevie Ray Vaughn and Carlos Santana, local boy from Hawaii, Larry Dupio, emerges with a style all his own. While meeting Muddy Waters backstage at the Waikiki Shell in 1982, Waters asked Larry to do him a favor and "keep the blues alive!" Larry is keeping that promise.
His seventh album "Love And Lightnin'," to be released this coming November, is a follow up after winning the Nā Hōkū Hanohano Award for the Best Rock Album of the Year in 2019. Three of his previous albums, "Lightning Larry Dupio," "Elima" and "Lightning Strikes Hilo" have made it onto the first GRAMMY® ballot in several different categories.
Larry Dupio grew up in Kailua and Kalihi on the island of Oahu, graduated from Farrington High School, served honorably in the Navy during the Vietnam era, came back home and got his music degree from Leeward Community College. He was able to nurture his talent on the Big Island of Hawaii and won the support of a loyal following and earned the "Keepin' the Blues Alive" award from the Hawaiian Blues Society. Larry and his family moved to the Pacific Northwest for almost ten years. During that time, Larry became a part of the prestigious Portland music scene. He won Guitar Center's King of the Blues competition in Portland and was nominated as Best Guitar Player in Cascade Blues Association's Muddy Waters Challenge.
Monday, September 23rd, will be an eclectic night of traditional and original Blues. Come and strap on a seat belt and get ready to be spellbound!
"The image of the rock guitarist is akin to that of a gunfighter or a fighter pilot, young, cocky, oozing of machismo and devoid of any acceptance of the constraints of mortality. Then there's Larry Dupio, the Big Island's premier rock guitarist."⁠—John Burnett, Hawaii Island Journal
There will be two performances starting at 6:30 PM and again at 9:00 PM. Please refer to the event website for more information.