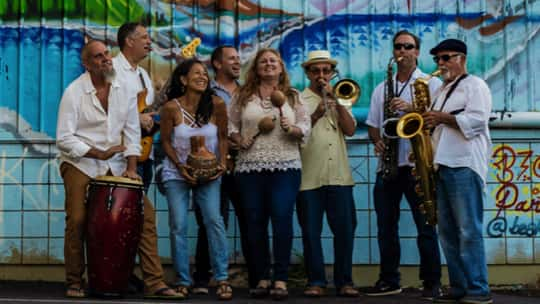 GOOD FOOT is Capt. Ray Beatty on baritone sax, Jason Forester on bass, David Goldfarb on trombone, Babatunji Heath on drums, Melody Heidel on lead vocals, Mark Iseman on guitar, Lori Kimata on percussion, and Rollin Wakely on guitar and tenor sax.
GOOD FOOT takes it name from the James Brown song and is a true collaboration of 8 musicians mining the rich transatlantic exchange of musical expressions that have migrated from West Africa to North America, back to West Africa and back again in an ongoing conversation that has given us Jazz, Funk, Soul, Afro Beat and much more. Good Foot creates original music influenced by these abundant treasures, as well as interpreting the classics, rare grooves, and new gems from our contemporaries who share our love for this music. The band works hard to deliver tight, high-energy performances that set mind and body in motion. Good Foot delivers driving bass and drums, dancing percussion, shimmering guitars, soaring vocals, and wailing horns in celebration of Funk, Soul, and Afro Beat.
Good Foot was formed in 2013 and quickly generated excitement among live music fans in the Honolulu club scene and was soon invited to play music festivals like Hallowbaloo, large private parties such as Le Dîner en Blanc and The Kaimana Klassik ultimate frisbee tournament, major fundraisers Kokua Nepal and the Surfrider Foundation's annual John Kelly Awards, and Hawaii Public Radio's Atherton concert series.
There will be two performances starting at 6:30 PM and again at 9:00 PM. Please refer to the event website for more information.