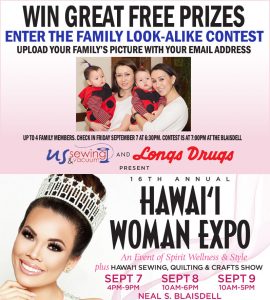 Sign Up! Send us a picture of your family looking alike!
Matchy-Matchy Twinsey-Twinsey.  Have fun!
Make sure you give us your email address & up load a picture. Click the image above or use this link http://digitalivy.com/FBYFRL to enter!
Up to 4 family members will participate in the Family Look Alike contest
Friday September 7, 2018 between 6p -7p at the Blaisdell Exhibition Hall.
You will receive 4 free tickets to the Hawaii Woman Expo on Friday night September 7, 2018.
And chance to Win lots of great free prizes including a $100 gift card to spend
at the Hawaii Woman Expo, Free movie tickets, sporting event tickets and more!
Enter today!  Deadline is Midnight on Thursday September 6, 2018.  Good Luck!